For any South Indian movie buff, Jyothika would be a known name. Especially Tamil movie fans.
The movie I am talking about is a fairly old tamil movie. It released in 2006, starring Kamal Hasan and Jyothika.
So why am I doing a celebrity makeup post on movie that released 7 years ago? Well I was watching it last night and realized that she has really natural looking makeup and it would great for an everyday look.
Now I am no expert but I will try to give a rough breakdown of the look. I might not be able to mention products that can help you replicate the look, as I'm so well versed with that.
Face:
Clear skin (always needed as a good base)
Foundation and Concealer that matches your skin tone. Concealer is important for that fresh look. Also choose a foundation that gives a dewy finish. That way you look more youthful.
Cheeks- looks like a mauve brown blush. I've never used ColorBar blushes but I've seen swatches online and I think Cosmic Rose might give the same shade that she's wearing.
Eyes:
A light brown eyeshadow. I would use Nyx Single eyeshadow in Taupe.
Use black kajal/kohl on the waterline. My suggestion Lakme Absolute Kohl. It BLACK!
In some scene it looks like she has only tightlined and not put liner on the lids. Like in the above picture. I like that look for daily wear. It is what when I am in a hurry to get to work.
Mascara is a must. Something that does not give too much volume. Natural looking eyelashes is what you want to go far.
Lips:
Throughout the movie she uses browns. Browns with pink undertones, with plum undertones. Matte to creamy finish. Nothing gloss
The makeup is understated but highlights her features every so slightly and this is what I like best. Simple, and elegant.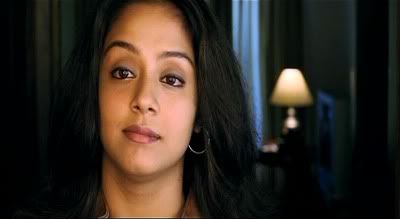 So. What do you think?
miss kays